MORE CONFIDENCE IN YOUR SOURCING DECISIONS
Manheim Dashboard empowers you to make the right sourcing and acquisition decisions for your market with access to digital auctions, live market insights from vAuto and more than 15 key metrics that go beyond MMR data.
Armed with actionable insights across multiple auctions, you can determine the value of any vehicle in the Manheim Marketplace—Manheim.com, Simulcast, OVE and Manheim private stores. It's everything you need in a single view, saving you hours of pre-sale work without sacrificing precision.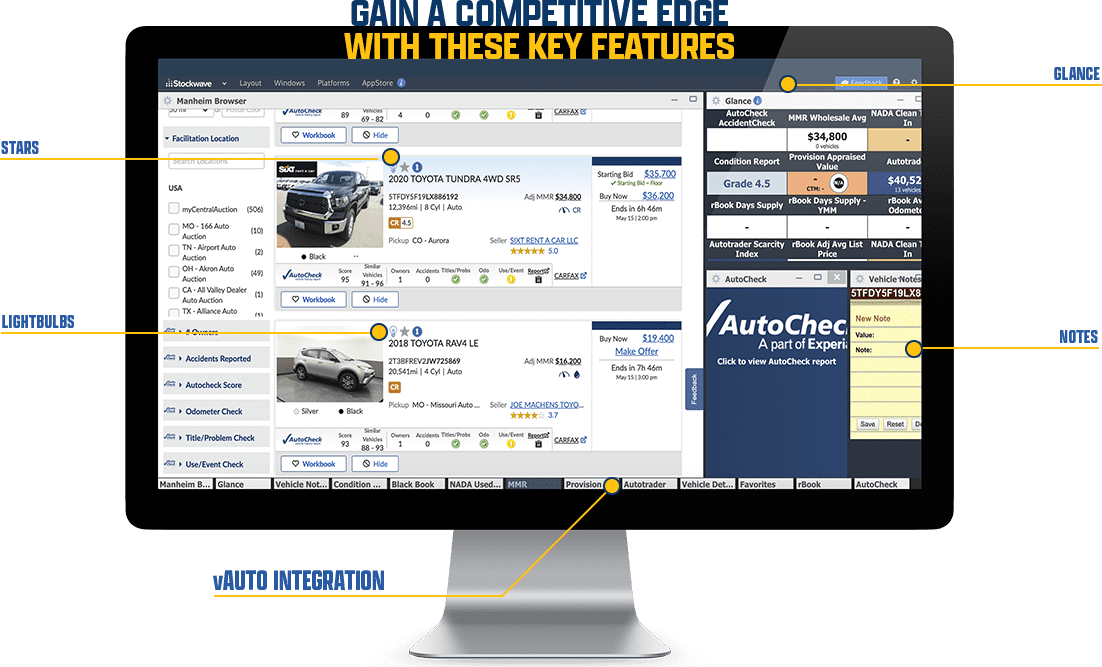 Glance
15+ datapoints to gain the most accurate view of demand and values specific to your market.
Notes
Capture presale notes that follow the car through the auction process.
Lightbulbs
Populates the glance with a variety of vehicle insights.
vAuto Integration
Get a full vAuto appraisal without cutting and pasting VIN and mileage or opening a new tab in Provision. See the stocking grade and ProfitTime score of any vehicle.
Stars
Mark your favorite vehicles and create a lane alert when they reach the block during a Simulcast sale.

/?php the_content(); ?>
I'M IN! TURN ON MY ACCESS TO MANHEIM DASHBOARD AT NO COST.
*Monthly fee waived if you purchase four or more vehicles per month from the Manheim Marketplace.