Meet the #BidSquad: Erik L.
Meet #BidSquad Concierge Team member Erik L. from our Mountain West region.
---
Erik supports the Manheim New Mexico location where he actively works with 40 dealers and has listed over 700 vehicles.
As a Manheim concierge, Erik interacts with dealers and advises them on the prices of their vehicle.
We asked Erik what it's like to be a Manheim Concierge. Here is what he said:  
What two things do you like most about being a Manheim Concierge?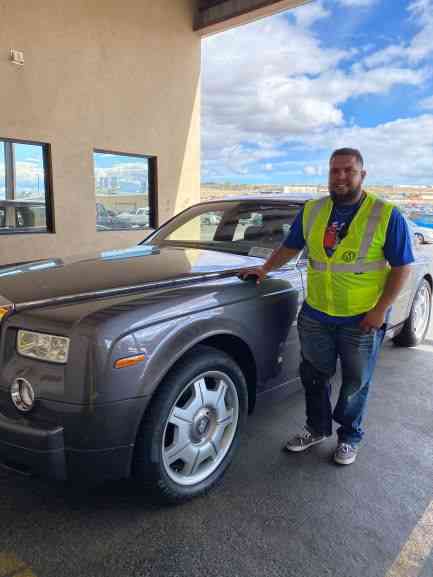 The first thing I most like about being a Manheim concierge is having the ability to interact with so many new people that are involved in the auto industry. The second thing is being able to inspect and check out the high-end vehicles being that I am a gear head!
What are some benefits to a dealer for using a Manheim Concierge? 
A huge benefit for a dealer to use a Manheim concierge is that they are able to post their vehicles on an auction platform and also be able to keep their vehicle on their lot to try to retail. Next is that they are able to get a second point of view with a detailed inspection to price their vehicles accurately.
Is there a minimum or maximum # of cars you have to list in order for a dealer to use a Manheim Concierge?  
No there is no minimum number of cars for a dealer to request us.
How easy is it for a dealer to request a Concierge? 
We are only a call away! And a dealer can request through the Manheim Express app.
What's the most interesting vehicle you've listed for a client and why?
The most interesting vehicle I have inspected so far was a 2006 Rolls Royce Phantom. We all see them on tv and videos but not in person. This vehicle did sell and the seller was super excited about the sale!
We also wanted to know a little bit about Erik the amazing human!
So, tell us a little about yourself.
My wife and I have a 1 year old German Shepherd and his name is Diesel. I basically have 2 hobbies and they depend on the weather, when it is cold I really enjoy snowboarding, and when the weather gets warm I love to drag race.
If you had a superpower, what would it be and why?
If I could have a superpower it would be the ability to fly. It would make traveling a whole lot easier and much faster.
---
Thank you, Erik for your outstanding service to dealers in your area! We are impressed with your professionalism and work ethic as are the clients you support!
Want your own personal #BidSquad? Contact your Manheim sales representative or visit manheimexpress.com.
Let us build your success story. Request a sales consultation today.