No reserves means buyers never waste time bidding at Upside Direct
How this one-of-a-kind digital auction is addressing the problem of bidder fatigue.
What is bidder fatigue?
As a buyer on the hunt for inventory, there's nothing more frustrating than thinking you've found a great deal at auction only to have the seller "no-sale" the vehicle and walk away. You end up wasting valuable time, and missing out on opportunities to bring in more inventory and build your business.
These days, the sting of a no-sale is especially hard on independent dealers, who are already having a tough time finding the right vehicles. Overtime, this creates "bidder fatigue," a sense of exhaustion from buyers who keep winning bids but not vehicles. It's why more buyers flock to wholesalers with higher sell rates, and why networks of dealers will intentionally avoid repeat no-salers in their market. Put simply, no-sales can make for a very frustrating auction experience.
A no reserve, no risk auction
Upside Direct is aiming to create a more healthy and efficient auction marketplace by saying "no" to all no-sales — period. Every vehicle on Upside Direct that gets a bid will sell to the highest bidder. No reserves. No risk of chasing down vehicles all day that never sell and leaving empty handed.
A strict "no reserve" policy doesn't just drive more consistent buyer success, but greatly increases the chance for winning bidders to find that elusive deal they need now more than ever. Combine that with all bidding on Upside Direct starting at 50% of MMR, and you have a digital auction environment where finding a true steal is a real possibility. But outside of that occasional jackpot, independent dealers can reliably count on Upside to find fresh trade-ins at great prices.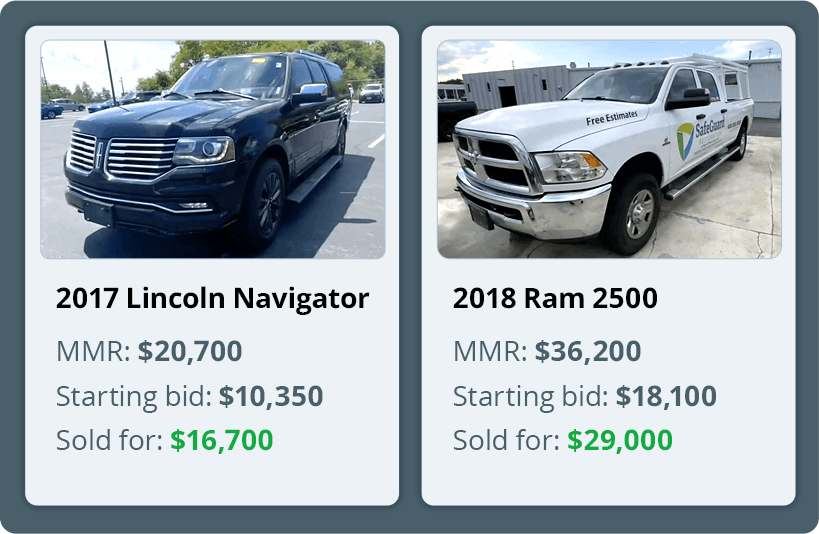 Saying "no" to no sales means buyers can come into every Upside Direct auction with confidence that their time spent bidding will always be time well spent. It helps energize the entire marketplace, and paired with Cox Automotive's other buyer-friendly policies, opens the door for unique deals buyers won't find anywhere else.
Let us build your success story. Request a sales consultation today.