Upside Direct's four key principles that lead to buyer success at auction
Upside Direct is creating a totally unique buying opportunity at a time when it's needed most.
With unprecedented used vehicle shortages nationwide, digital auctions have become essential for dealers in search of inventory. And while digital auctions provide quick access to vehicles, there's a certain discomfort in buying a car you can't see or touch. The pressure of the current market compounds this discomfort, not to mention concerns over increasing transportation costs for vehicles sourced over long distances. Buying used vehicles digitally with confidence and ease has never been more important.
Upside Direct is a new digital auction developed by Cox Automotive to give independent dealers easy access to fresh trades from vAuto franchise dealers, with buyer-friendly policies that provide the opportunity to get unique deals at low-risk. It's a game changing buying experience that not only drives buyer success during this challenging moment in the market, but helps change the way buyers and sellers approach wholesaling for the long haul.
Enabled by the scale and breadth-of-services that only Cox Automotive can bring to the table, Upside Direct is built on four basic principles that empower buyer success at auction.
1. All bidding starts at 50% of MRR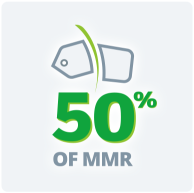 Extremely low initial bids help ensure that every car is a potential deal. All bidding at Upside Direct starts at 50% of MMR — no exceptions. That means a 2012 Honda Civic with an MMR of $9,325 starts bidding right at $4,662. And that's not just an example. It's a real vehicle that sold on Upside Direct for $8,300. With Upside Direct, we're already seeing a marketplace that opens the door for independent dealers to find unique deals — and maybe some steals.
2. 100% of units sell
At Upside Direct there are no reserves, period. Buyers can enter the sale knowing every vehicle will always go to the highest bidder. A strict no reserves policy means no more frustration chasing down cars that end up never selling — leading to a more efficient buying experience, and more consistent buyer success.
3. 360º Disclosure
Buyers can't get the right cars for their dealership without the right information. That's why every Upside Direct vehicle undergoes the full Manheim Express Concierge Inspection — including an in-depth cosmetic inspection and OBD scan. Any issues are noted in the Condition Report, along with 360 degree images, plus videos of the engine and undercarriage. With these details readily available, buyers can feel confident they're going after the right inventory for their business, and are going to get the vehicle they paid for.
4. 0% Worry
Should a vehicle not match its CR for any reason, Upside Direct will work closely with buyers to take the car back. The arbitration process will be transparent and focused on buyer satisfaction. Plus, nearly every vehicle comes with a complimentary DealShield 21-Day Return Guarantee. That's extra protection at no extra cost.
With these four principles in place, Upside Direct is truly a one-of-a-kind auction where buyers can consistently find deals, never risk a "no sale", and leave satisfied with every purchase. What's more, this focus on buyer confidence and satisfaction sends a signal to sellers that Upside Direct is the right marketplace for their fresh trades. With an opportunity to find special deals on franchise trades, and Cox Automotive standing behind every purchase, Upside Direct is truly changing the wholesale game for independent buyers.
Let us build your success story. Request a sales consultation today.