Manheim Statesville driver finds hope amidst tragedy
When tragedy strikes, it can feel like the entire world has been turned upside down. Yet hope can be found within our communities—from the people with whom we work and do business with every day to those who read the same newspaper.
Manheim Statesville part-time driver Barry Sanders, and his wife, Sheila, recently experienced a devastating loss.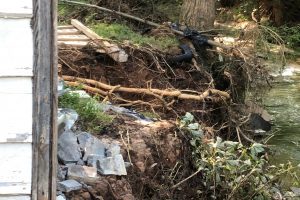 After nearly a month of above average rainfall for the area, the creek near the Sanders's home in Hickory, North Carolina, swelled dramatically. An overnight downpour on June 9 resulted in an astounding amount of property loss and flood damage for the couple. But between the help of teammates from Manheim Statesville and the local community, the Sanders's are on the road to recovery.
The day following the flood, on the morning of June 10, Sanders called into Manheim Statesville to speak with his supervisor, Danny Shore.
"I called Danny on Monday and told him I wouldn't be in to work because of flooding and loss," explained Sanders. When he spoke with Shore, Sanders said his first priority was his well-being. "He asked, 'Are you safe? Do you need a place to stay?'"
"I knew something was wrong the minute he called," said Shore. "He didn't sound like himself."
Shore then contacted Carl Adams, the auction's security manager. According to Shore, Adams takes point in situations like this, and the two went to the Sanders home that day to survey the damage. The loss they observed was substantial.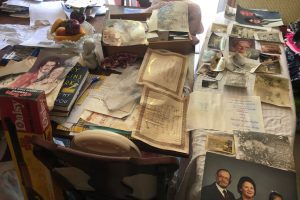 There had been almost two feet of water in the home, including living spaces. The couple's washer, dryer, and hot water heater were all lost in the flood, and several other appliances were severely damaged or destroyed. A large portion of their yard had been reclaimed by the creek, and there was debris everywhere.
"It was a massive amount of water that came up and went away after about 12 hours," recalled Shore. "There were other homes in the area, but none were affected like Barry's."
Shore and Adams shared what they had seen with the team at Manheim Statesville, and they immediately sprang into action to organize a volunteer clean-up event at the Sanders's home.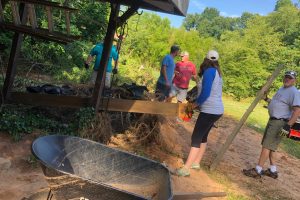 That following Saturday, a team of 14 from Manheim Statesville arrived at the Sanders's to help in any way they could. For nearly six hours, the volunteers cleaned out buildings and salvaged items, cleaning tools and clothing and any other household items that could be saved. They pressure washed the buildings and driveway to remove excess mud and debris and cleaned up the yard by removing debris and mowing. They also helped remove damaged paneling, insulation and furniture.
"We've been trying to help him all we can," said Shore. "We're going to go back another day and see what else we can do."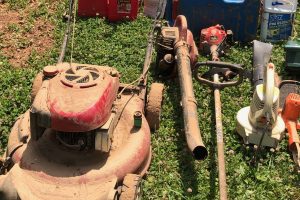 According to Shore, the sense of community in the area is very strong: "Statesville's really quick to act like that when someone has a problem."
In fact, Shore had wanted to arrange for the couple to get a new washer and dryer, but he received a call that someone in the area had donated a set. He then set out to replace the hot water heater, but someone else had seen the story in the newspaper and sent one out with a plumber the next day.
"The community has really done a lot," observed Shore.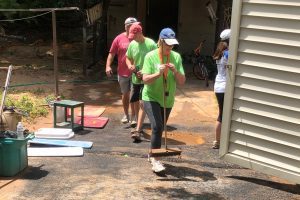 "It's humbling to get this response," said Sanders of the efforts of Manheim Statesville and his community.
Sheila, Sanders's wife of 29 years, echoed his thoughts.
"We are so appreciative of the helpful things Manheim is doing for Barry and me. It is beyond words. You all have been so good to us. God bless you all."
Barry Sanders has since returned to work.
"It seems like every day that goes by, he's a bit more hopeful that things will return to normal," noted Shore.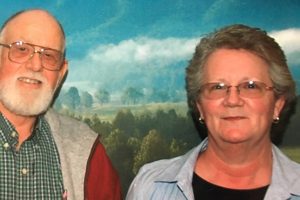 A relief fund has been created to help support the Sanders's recovery efforts. Interested parties may make a donation to:
William "Barry" Sanders
People's Bank Springs Rd Hickory North Carolina
(828) 256-9229
3310 Springs Rd NE, Hickory, NC 28601
Let us build your success story. Request a sales consultation today.