What you see isn't always what you get. That's why you need a PSI a functional, mechanical inspection of a vehicle's major components so you know if there's a problem before it leaves the lot. If we miss an issue during the inspection, the PSI Guarantee will make it right.

PSIs can be ordered after vehicle purchase, online or in-lane, or you can protect every vehicle by signing up for Automatic PSI.
See Post-Sale Inspection policy for more details.
Benefits of PSI
Get peace of mind with
on-the-ground information
Minimize unexpected
repair costs
Save time — inspections take place before the vehicle even leaves the auction
Buy a PSI online or in-lane on your mobile device
You can also protect every vehicle by signing up for Automatic PSI.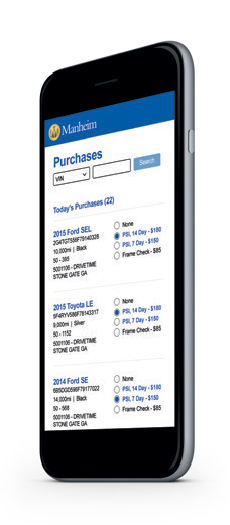 POST-SALE INSPECTION LIMITED GUARANTEES*
| | |
| --- | --- |
| Guarantee Period | 7 or 14 days |
| Lights and Mileage | Green-light vehicles under 125,000 miles; Green-and-yellow-light vehicles under 125,000 miles |
| Vehicle Purchase Price | Over $3,000 |
| Inspection Items | Odometer verification; transmission engagement and function; engine function and operation; 4x4 system engagement; ABS and brake function; electrical accessory function*; emission control equipment; air conditioning operation; SRS (supplemental restraint system/airbags) check; structure; flood damage |
| Exclusions | Seller-disclosed items for green-and-yellow-light vehicles will not be inspected or guaranteed |
| Claim Mileage Criteria | 200 incremental odometer miles |
If an inspected item passes during the inspection, but then fails during the PSI guarantee period and costs $500 or more to repair or replace, the defect is eligible for claim resolution with Manheim.
*For vehicles up to 4 years old.
Flat Rate Inspection Products

›
Our new Flat Rate inspection products join our growing Purchase Protection Suite, giving you even more ways to achieve peace of mind when buying wholesale.
No matter how you buy, Manheim has a plan that will work for you!
| | Vehicle-by-Vehicle | Auto | Auto Flat Rate |
| --- | --- | --- | --- |
| Avoid unexpected repairs | | | |
| Avoid unnecessary transportation costs | | | |
| Automatically applied to eligible vehicles | | | |
| First-priority scheduling for all inspections | | | |
| One price for all eligible vehicles | | | |
| 7-day inspection guarantee available | | | |
| 14-day inspection guarantee available | | | |