Manheim employees challenged, local charities win big
Manheim auctions nationwide recently took part in a corporate challenge to raise awareness for the Manheim Express app. The contest pit two teams together: the east versus the west. President and Chief Executive Officer of Cox Enterprises Alex Taylor was named team leader of the west while Sandy Schwartz, President, Cox Automotive led the east team.
To up the ante, the contest sparked a friendly wager among our top leadership at Cox Automotive and parent company Cox Enterprises. Consistent with the company's ongoing emphasis on giving back to the community, this resulted in $10,000 donations to charities selected by the winning location in each region.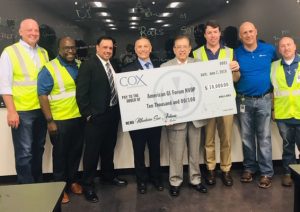 In the end, Manheim Philadelphia in the east took top honors overall, while Manheim San Antonio led the west.
Manheim San Antonio chose their local chapter of American GI Forum National Veterans Outreach, whom they have been supporting since 2016. The organization helps veterans and their families find stable housing and meaningful employment.
"GI Forum does wonderful work for our community's veterans, including our location's security officer, who is a GI Forum resident," explained Manheim San Antonio General Manager Mike Browning. "This donation is so important to their mission because it provides unrestricted funds to help fulfill needs that are not covered by grants or government funding."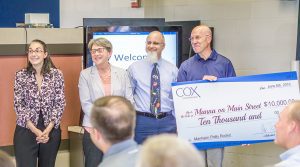 Manheim Philadelphia chose longtime charity partner Manna on Main Street. Located just four miles from the Manheim site, the organization is dedicated to ending hunger in northern Pennsylvania.
"Seven years ago, we were searching for a local nonprofit to support and we found it right in our own backyard," explained Charlie Pollina, General Manager of Manheim Philadelphia. "With less than one percent of its budget coming from public funding, Manna relies heavily on corporate and community donations to serve the hungry throughout Montgomery County."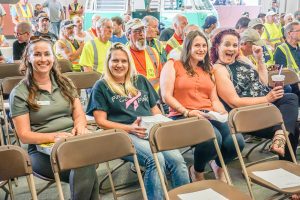 According to Marketing Supervisor Kelli Barsby, Manheim Philadelphia supports Manna on Mainstreet throughout the year. They send a team to volunteer in their soup kitchen and serve the evening meal at least once a quarter and also hold various food drives and fundraisers. In the last year alone, she said they donated more than 800 pounds of food to Manna on Mainstreet.
Together, Cox Enterprises President and CEO Alex Taylor and Cox Automotive President Sandy Schwartz made good on their bets by making special visits to each location for a check presentation ceremony, bringing with them Manheim leaders Grace Huang, President, Patrick Brennan, Senior Vice President, Tim McKinley, Senior Vice President of Sales, and Derek Hansen, Vice President, Offsite Solutions. The ceremonies included presentations from leaders and charity representatives and delicious snacks and refreshments for all.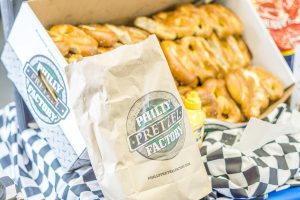 Let us build your success story. Request a sales consultation today.