Manheim Express Concierge team brings big wins for OLO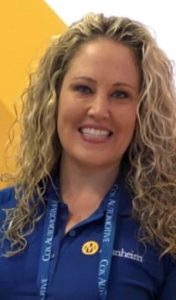 At this year's NADA, Manheim Express Concierge Ashley Roseberry met with Brian Kushner, Vice President and Chief Purchasing Officer for Off Lease Only, to discuss Manheim Express and the app's new buy-side enhancements. In less than two months time, OLO has already sold nine times as many cars on digital platforms than in all of 2018!
After meeting with Ashley, Brian immediately not only saw the value in Manheim Express and how it would move no-sales from the auction more quickly, but for the first time, they could consider selling aged retail inventory directly from their lot exclusively on Manheim Express thanks to the added value of the Concierge inspection.
Manheim Express specialists Tyler Germanos in Orlando and Willie Hall in Palm Beach then met with the operations managers for each OLO location and with the OLO wholesale director, and the team came up with a strategy starting with points of contact, lot logistics, and vehicle locations to streamline the process for inspections and listings. Coupled with the No-Fee February promotion and the power of the Manheim Marketplace, OLO sold 12 cars in their first week!
Off Lease Only was so excited with the results that they agreed to list cars at all four lot locations immediately. Working remotely with Edwin Leal, a Manheim Express Concierge in South Florida, they listed 17 cars at their Miami store in just one day!
Manheim Express Southeast Client Solution Manager Kimberley Crawford has also helped to bridge the communication between Ashley Roseberry and the five Concierge reps assisting OLO that cover their inventory from Miami to Orlando. This communication ensures that cars are listed quickly and efficiently, and makes it easy for the client to communicate with their operations team so that the cars are ready to sell.
To put it all into perspective, Off Lease Only only sold four units on OVE's digital platform for all of 2018. They have now listed more than 70 cars on Manheim Express and sold 37—and that is just since February 1st!
The results that Off Lease Only have experienced are a true testament to teamwork, communication, and of the power of Manheim Express.
Download the app now and contact your local Manheim representative to learn more: www.manheimexpress.com.
Learn more about the Manheim Expres Concierge on social!
Let us build your success story. Request a sales consultation today.